Your Shopping Cart
Your shopping cart is currently empty.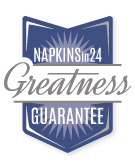 Style your party with Napkinsin24.com, offering personalized napkins, guest towels and engraved gifts. Enjoy fast service - most orders ship in 24 hours - and free FedEx ground shipping to anywhere in the United States.
Our other brands:

Help centerContactLog-in/Sign-up
About usFAQPrivacy PolicySitemap

All materials Copyright © 2023 napkinsin24.com. All rights reserved.